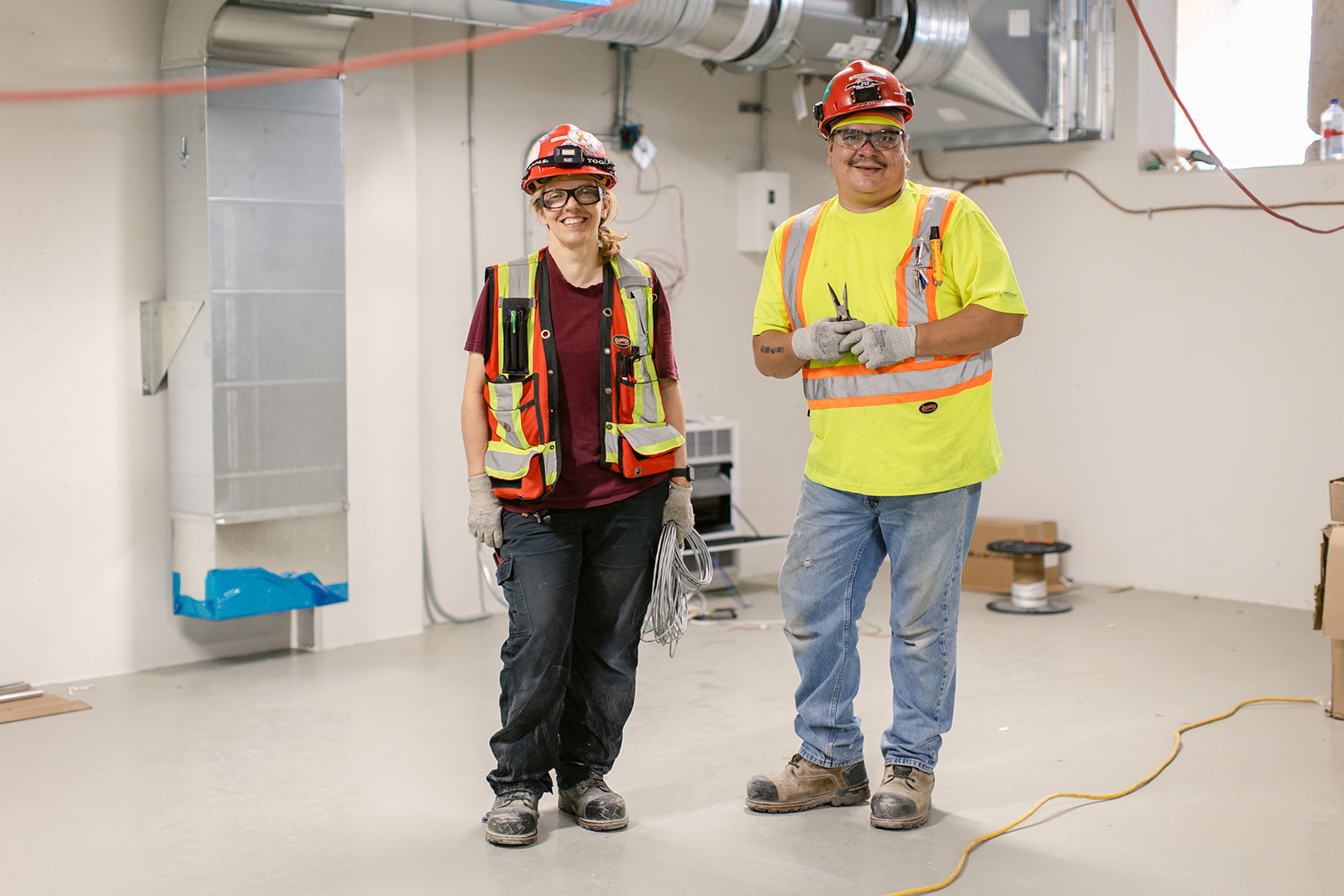 What is a skilled trade?
A skilled trade is an occupation that requires a particular skillset, knowledge base or ability. You see the evidence of skilled trades every day—when you walk into a building, drive down the road, go to a restaurant, or simply turn on a light.  
When people think of skilled trades, there's a few that immediately come to mind—Plumber, Carpenter, Electrician—but the trades are much more extensive, with nearly 100 to choose from in B.C. Everything from Crane Operators to Hairstylists, Locksmiths to Arborists, and much more. 
trades to choose from in B.C.
What is an
apprenticeship?
An apprenticeship is a combination of on-the-job training and classroom learning that leads to a trade credential, such as a Certificate of Qualification (CoQ) or Red Seal. It lets you put your brain and body to work doing something you love. It's a chance to sharpen your skills, get better at your craft, and turn ideas into things you can see, smell, taste, and touch.  
Paid training, a satisfying, hands-on career, flexibility—these are just a few of the great reasons to consider a career in the skilled trades. And the demand is strong: by 2032, there will be up to 83,000 job openings in B.C., and many will require trades training.  
SkilledTradesBC is the organization that advances British Columbia's trades training system.
Roles &
Responsibilities
An apprenticeship is a real group effort. Apprentices, employers, training providers and SkilledTradesBC all work closely together toward the same goal, but with their own unique roles and responsibilities. 
Apprentices 
Apprentices are responsible for reading and understanding the requirements of their apprenticeship training program, registering for technical training every year at a recognized training provider, and tracking on-the-job training hours and reporting them every six to 12 months. 
Employer Sponsors 
Employer sponsors are responsible for teaching apprentices the skills of the trade by providing supervision and feedback from a certified journeyperson. They support apprentices while they undergo technical training, track on-the-job training hours, and recommend the apprentice for certification when program requirements are complete. If the employer sponsor is not a certified journeyperson but has extensive experience in the trade, they can apply for Sign Off Authority. 
Technical Training Providers 
Technical training providers are approved college or non-public institutions that provide the classroom portion of apprenticeship training. Classroom training only counts toward apprenticeships when taken at one of the approved training providers.  
SkilledTradesBC 
SkilledTradesBC advances B.C.'s trades training system and works with employers, apprentices, industry partners and governments to increase opportunities in the trades. We set program standards, issue credentials, oversee exams, and provide assistance to apprentices and employer sponsors. 
Frequently Asked
QUESTIONS
An apprenticeship is a combination of on-the-job training and classroom learning that leads to a trade credential, such as a Certificate of Qualification (CoQ) or Red Seal. Once you complete your apprenticeship and receive your certification, you are qualified to work in a skilled trade. You can be an apprentice during high school or after you graduate. 
Apprenticeship training helps you get a Certificate of Qualification (CoQ), which is accepted across B.C. About 50 trades also offer a Red Seal, which certifies you to work across Canada. 
Apprenticeships are open to adults and youth. Everyone is welcome, even if you're in high school, finished college, or simply want a career change. 
If you're ready to start an apprenticeship, you'll need to find a job with an employer who will sponsor and train you. For help finding a job in your chosen trade check out WorkBC.