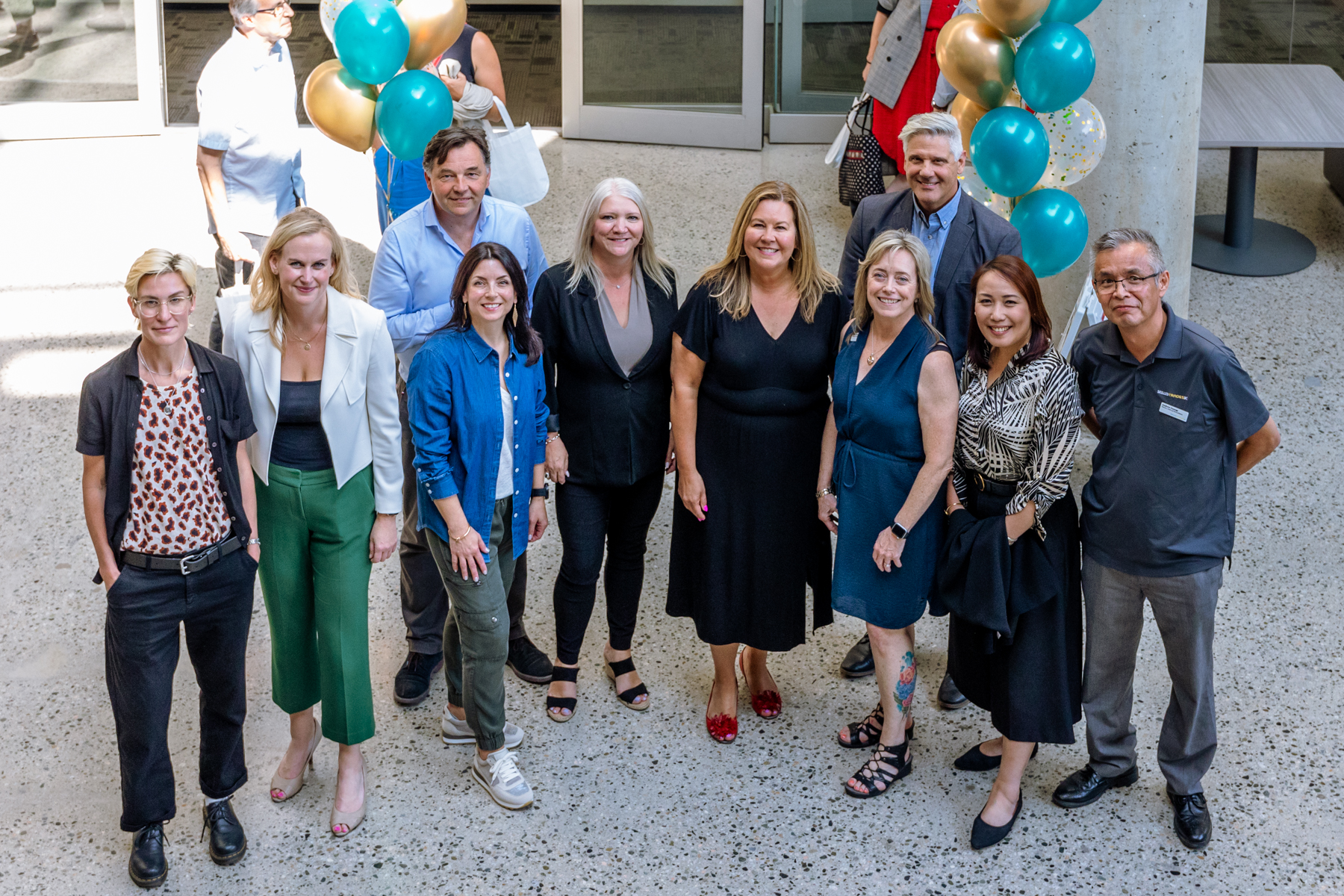 Leadership
Team
SkilledTradesBC's mandate is set out in the 2022 Skilled Trades BC Act.
SkilledTradesBC is governed by a nine-person Board of Directors appointed by the government. Appointments are guided by the Crown Agencies and Board Resourcing Office (CABRO). SkilledTradesBC is committed to continuously improving governance through transparency, professional development of directors and annual Board assessments. 
In accordance with Treasury Board Directive 2/20, SkilledTradesBC is required to annually disclose remuneration paid to each appointee. See 2022/23 Board Appointee Remuneration Disclosure.
Senior Leadership and Board of Directors
Shelley Gray
As the first woman to hold the position of CEO at SkilledTradesBC, Shelley Gray is highly motivated to work towards creating a more inclusive skilled trades and apprenticeship system that reflects our diverse population. She has over two decades of experience driving business results through customer-focused strategies for some of Canada's top organizations. She also volunteers as a mentor with Minerva BC and sits on a broad range of local and national Boards and Committees, including the Canadian Council of Directors of Apprenticeships. Shelley's leadership has been recognized by YWCA as a Women of Distinction nominee and by Business in Vancouver in their top 500 leaders list. She has a Bachelor of Arts in International Business from the University of Alberta, a Leadership Development Certificate from UBC Sauder School of Business, and INSEAD Executive Leadership Certificate in Driving Value through Business Acumen, and recently received her ICD.D.
Max Logan
Max Logan plays a central role shaping the experience and education of those entering the trades, as the lead for the Customer Experience, Program Standards, Truth and Reconciliation and Trades Inclusion and Access teams.    He brings significant experience in executive leadership roles in the public sector and regulatory environments where he has overseen customer service, strategic planning, corporate governance and much more. Prior to joining SkilledTradesBC, he was COO of Engineers and Geoscientists BC, where he led the successful transition to a major new government-mandated regulatory structure. In addition, Max has held leadership positions in customer-centric organizations such as the Transportation Investment Corporation. He has an Executive Master of Business Administration from Simon Fraser University and a Bachelor of Arts in Political Science from the University of British Columbia.  
Rod Bianchini
Rod Bianchini is a passionate advocate of the skilled trades, where he continues to push for accessibility to training and careers, and is a driving force behind the new Skilled Trades Certification. He brings an extensive background in the skilled trades to his position, as a qualified Roofer. For almost a decade, Rod has shaped the success of SkilledTradesBC, starting as the Manager of Apprenticeship Advisors in 2013 and then being appointed the Director of Industry Relations. This was followed by his appointment to Chief Operations Officer, a role in which he leveraged his passion for collaboration and intentional engagement to provide strategic direction to his team and their work with the Sector Advisory Groups and other industry stakeholders. He also worked closely with the Indigenous Initiatives team to build meaningful relationships with Indigenous communities through innovative community-based training programs and partnerships.
Chief Strategy & Compliance Officer
Adam Bale
Biography coming soon.
Shelley Allan
Shelley Allan plays an integral role in developing and managing corporate strategies and government relations. She has over 25 years' experience working with the BC Government in various leadership roles.  She has led strategy, policy and legislative initiatives involving international, national, and provincial teams in the areas of justice, labour mobility and skills training. Shelley also worked with the Ministry of Advanced Education, Skills and Training as the national project director advancing apprentice mobility and managing joint federal/provincial/territorial apprenticeship initiatives. Shelley possesses strong leadership and collaboration skills, which have enabled her to successfully liaise with various levels of government and provincial/territorial agencies. She holds an undergraduate degree from Simon Fraser University.
Director, Strategy – STC implementation
Jenny Duncan
Jenny Duncan is a seasoned marketing and communications leader with more than a decade of experience in reputation management, brand building and community stewardship. In her previous role as the Director, Marketing and Communications for Vancouver Airport Authority (YVR), Jenny oversaw a team of more than 20 people who were responsible for growing the brand of YVR, often voted North America's best airport. She led communications and social media for Clara's Big Ride for Bell Let's Talk, a cross-Canada tour with Olympian Clara Hughes that raised awareness for mental health. She also served on the non-profit YVR for Kids Board and has held roles on advisory committees supporting young women in the workplace with Greater Vancouver Board of Trade and YWCA. Jenny has a Bachelor of Arts in History and English from the University of British Columbia and an Executive Master of Business Administration from Simon Fraser University.
Director, External Relations
Tara Fong
Tara Fong oversees efforts to advance inclusion and equitable access to training and careers in the skilled trades. She manages strategic planning, initiatives, and funding agreements with external stakeholders, delivering attraction and retention services and pre-apprenticeship programs for youth, women, Indigenous peoples and underrepresented groups. She works directly with community and Indigenous organizations that align to SkilledTradesBC's mandate and service plan. Prior to her position with SkilledTradesBC, Tara worked for 15 years managing the delivery of career and employment programming services through a variety of roles, including senior leadership, program management, and front-line services. She holds a Post Graduate Certificate in Career Development and has a Counselling Certificate. She also volunteers as a Director for the Childhood Cancer Family Support Society.
Director, Trades Inclusion and Access
Andrew George
Andrew George's passion for the culinary arts and his experience in trades training provides him with a unique perspective in helping advance Indigenous participation in B.C.'s trades community. Andrew has over 30 years of culinary experience and is the first Indigenous Red Seal Chef in B.C. In addition, he has held influential roles in post-secondary schools as a head instructor and program developer. He is committed to reconciliation and increasing accessibility to skilled trades for Indigenous peoples. Most recently, Andrew was part of an Indigenous chef's working group that developed the first Professional Cook – Indigenous Content 1 program for levels 1, 2, 3. This program was first delivered in Okanagan College, followed by the Nicola Valley Institute of Technology, and College of New Caledonia. Andrew is a Hereditary Wing Chief for the Bear Clan in the traditional system of the Wet'suwet'en people and is a board member of the Wenenyiik Resource Development Society.
Director, Truth and Reconciliation
Paulette Higgins
Paulette Higgins oversees and manages SkilledTradesBC's annual investment in trades training and the designation and quality assurance of over 50 training providers in B.C. Prior to joining SkilledTradesBC, she led Simon Fraser University's industry engagement at the Beedie School of Business, advancing experiential learning in education and realizing career opportunities for students. She also worked as a senior executive and Academic Director for Haward Technology, an engineering and consulting company in the UAE that catered to petroleum, construction and energy companies in the Middle East, Asia and Africa. She is an instructor, certified auditor and assessor for the American Petroleum Institute and the Institute of Leadership and Management. As a big advocate for mentorship and giving back, Paulette also volunteers as a business mentor at Simon Fraser University and at various non-profit and immigrant settlement organizations, helping people build leadership skills, navigate through career opportunities, and adjust to life in Canada.
Director, Training Investment, Standards and Delivery
Karen King
Karen King is a progressive leader highly skilled at building top-performing teams. In her current role, she provides strategic leadership overseeing a team that supports SkilledTradesBC's customers, including apprentices and sponsors. With over 20 years of experience managing a variety of operational departments, she has developed and executed strategies to optimize business processes and deliver national services and support to customers. This includes a proven track record of driving operational performance through hands-on coaching and engagement.
Director, Customer Experience
Laura Lurz
Director, Strategic Initiatives
Lee Smith
Human Resources, Director
Loic Triger
Director, Information Technology
Cindy Oliver has dedicated her life's work to adult education and the labour movement.    
Her background includes 13 years as the President of the Federation of Post-Secondary Educators of BC, as well as 20 years as an instructor of Adult Basic Education and English at College of the Rockies, where she worked closely with trades and apprenticeship students and counsellors. She sat as a Director of the Canadian Apprenticeship Forum Board for ten years and is currently Chair of the Interprovincial Alliance of Board Chairs of Canada (IPA). In addition, she is an experienced public speaker, having spoken at numerous conferences worldwide on issues such as women's rights in the workplace and bargaining in the public sector. She has an Honours Bachelor of Arts from Lakehead University and a Master of Education from the University of Lethbridge.
Bob Davis holds a Millwright Interprovincial Red Seal ticket and has been a Millwright Instructor for the past twenty-eight years, teaching both apprenticeship and foundation programs. He is an Instructor and Chair of the Millwright Department at Kwantlen Polytechnic University (KPU), where he has also been seconded to serve as an interim Associate Dean for the Faculty of Trades and Technology. For the last 18 years, he has also been actively involved in educational governance at KPU as an Education Council Member and Senator and Faculty representative on the Board of Governors. In addition to participating on a variety of local, provincial, and national committees, he volunteers for Canadian Apprenticeship Forum projects and has served on the BC Federation of Labour Apprenticeship and Skill Training Working Group and Canadian Labour Congress Apprenticeship Working Group. 
Peter Baker has an extensive background in training and development, project planning and project management. A member of the Squamish Nation, and former Director of Rights & Title department, Peter now serves as Chief of Staff where he focuses on being an advisor, strategist, and liaison internally and externally on behalf of Chair and Council, overseeing all governance and administrative needs for Chair and Council. He has provided management expertise for funding, business plan development, employment and training, and business efficiencies. He has also consulted on a variety of hospitality, cultural and special events organizations, such as Klahowya Village in Stanley Park (Indigenous Tourism Association of BC) and the 2010 Aboriginal Pavilion for the Four Host First Nations at the Winter Olympics. Peter has a Bachelor of Arts from the University of Victoria in Political Science and a Masters in Education from Simon Fraser University. 
Mary-Anne Bowcott has been an integral part of raising awareness of the benefits of diversifying the trades workforce. She is a Red Seal Plumber, Class B Gas Fitter and Steep Slope Roofer. As the owner of Westcom Plumbing and Gas Ltd. and Westcom Roofing and Sheetmetal, she has received several industry awards for her leadership: the Sooke Chamber of Commerce's Trade & Skilled Labour Excellence Award, the B.C. Construction Association's Provincial Construction Leadership Award, the Canadian Construction Association's Person of the Year Award, the Business Examiner Trade Business of the Year Award, and Camosun College's Promising Alumni Award as well as Distinguished Alumni Award. She has participated in many forums and conferences to share insights on being a woman in trades, she is a co-founder and former Vice President of the BC Tradeswomen Society, and she also sat on the Governance Committee for the Construction Workforce Equity Committee, during which time she contributed to the creation of the Builders Code. 
Michelle Bryant is an experienced leadership coach, educator and corporate manager who has spent more than two decades in diverse roles—as a teacher, Vice Principal, and currently the Senior Director, Indigenous Relations for the City of Vancouver. A member of the Tsimshian Nation from the community of Lax Kw'alaams, Michelle served as the first Indigenous woman President of the Prince Rupert and District Chamber of Commerce and is currently the Vice President of the Women's Leadership Network and an elected Trustee for the Lax Kw'alaams Settlement Trust. She held Provincial Board positions with the Indigenous Business and Investment Council and the Medal of Good Citizenship. She has a Bachelor of Education from Vancouver Island University, a Master of Education in Multidisciplinary Leadership from the University of Northern British Columbia, a Diploma in Solution Focused Coaching, and a Certificate in Advanced Management.   
Carly Church is a mechanical engineer with over a decade of experience overseeing the development and expansion of mines throughout Canada and globally. She is currently a project manager with JDS Energy & Mining, a B.C.-based company that takes mining projects from conceptual visions to successful operations. She has a passion for promoting women's career opportunities in mining, through speaking and mentoring opportunities, as well as participating in industry groups including the Association of Mineral Exploration BC and the Centre for Training Excellence in Mining. Carly has a Bachelors of Applied Science in Mechanical Engineering and Information Technology from the University of British Columbia, a Masters of Technology Management from the University of New South Wales, and Certificates in Risk Management and Business Analysis. 
Laird Cronk has significant experience in both labour and business endeavours. A Red Seal Electrician by trade, he spent over two decades working in the marine, communication, commercial, industrial, and residential sectors in B.C. He was the Vancouver Island representative for the BC Building Trades Council and also worked as an Employment Standards Officer for the BC Ministry of Labour.  
From 2001 to 2018, he was the International Representative with the 1st District Office of the International Brotherhood of Electrical Workers, servicing IBEW Local Unions throughout B.C., Yukon Territory and Alberta. From 2018 to 2022, Laird was elected twice as President of the BC Federation of Labour, representing the views of more than 500,000 affiliated members from across the province. 
Rick Kasper is a retired bricklayer and stonemason who operated a small business and worked for his communities for many years. Rick was involved with the Glen Lake Ratepayers Association in the 1970s and served as the CRD director for Langford from 1981 to 1990, where he helped create the Galloping Goose Regional Trail, region-wide blue box recycling, low-income housing, and local beautification projects. He served as District of Sooke Councillor from 2005 to 2008 and was re-elected from 2011 to 2014 and 2014 to 2018. In addition, he served as MLA for Malahat-Juan de Fuca for 10 years. During this time, he headed a review of legislation governing manufactured homes, worked to get three new schools built, helped get funding for the SEAPARC Leisure Complex and Juan de Fuca Marine Trail, and fought to protect funding for the Sooke Women's Transition House. Rick completed his trade qualifications at the British Columbia Institute of Technology.  
Wally Penner built a career around his passion for working with the trades, Indigenous peoples, and local communities on construction projects. His experience began working on the Hugh Keenleyside Dam and road construction for the Ministry of Highways and Forests. Afterwards, he worked as the Regional Development Liaison Officer for the Kootenay Region for 10 years, during which time he was one of the founding members of the Columbia Basin Trust. He then worked for Columbia Power Corporation in the permitting and construction of the Arrow Lakes Generating Station and the Brilliant Expansion Generating Station, and he retired as the Regional Project Manager for the Waneta Expansion Project. Wally has been involved in his community as Chair of the Kootenay Lake District Hospital, the Regional Economic Advisory Committee, the Nelson Rod, Gun and Conservation Society and as a Director for the Regional District of Central Kootenay. He is also currently on the Board of Directors for the Ktunaxa Enterprises Ltd. 
Dr. Jane Jae-Kyung Shin is Vice President of Students and Community Development at Vancouver Community College (VCC). In 2013, Jane became the first Canadian of Korean descent to be elected as an MLA in Canada, representing Burnaby-Lougheed. She currently serves on the board of DIVERSEcity Community Resources Society, on the Equity, Diversity and Inclusion Advisory Committee for the Colleges & Institutes of Canada, as a representative of the western provinces on Senior Women Academic Administrators of Canada, and supports BC Children's Hospital as the ambassador of its Legacy Program. Jane earned her medical doctorate at Spartan Health Sciences University in St. Lucia. She also has an Executive Certificate in Women in Leadership from Cornell University, a Provincial Instructor's Diploma from VCC, and a Master of Education in Educational Technology and Learning Design from Simon Fraser University.