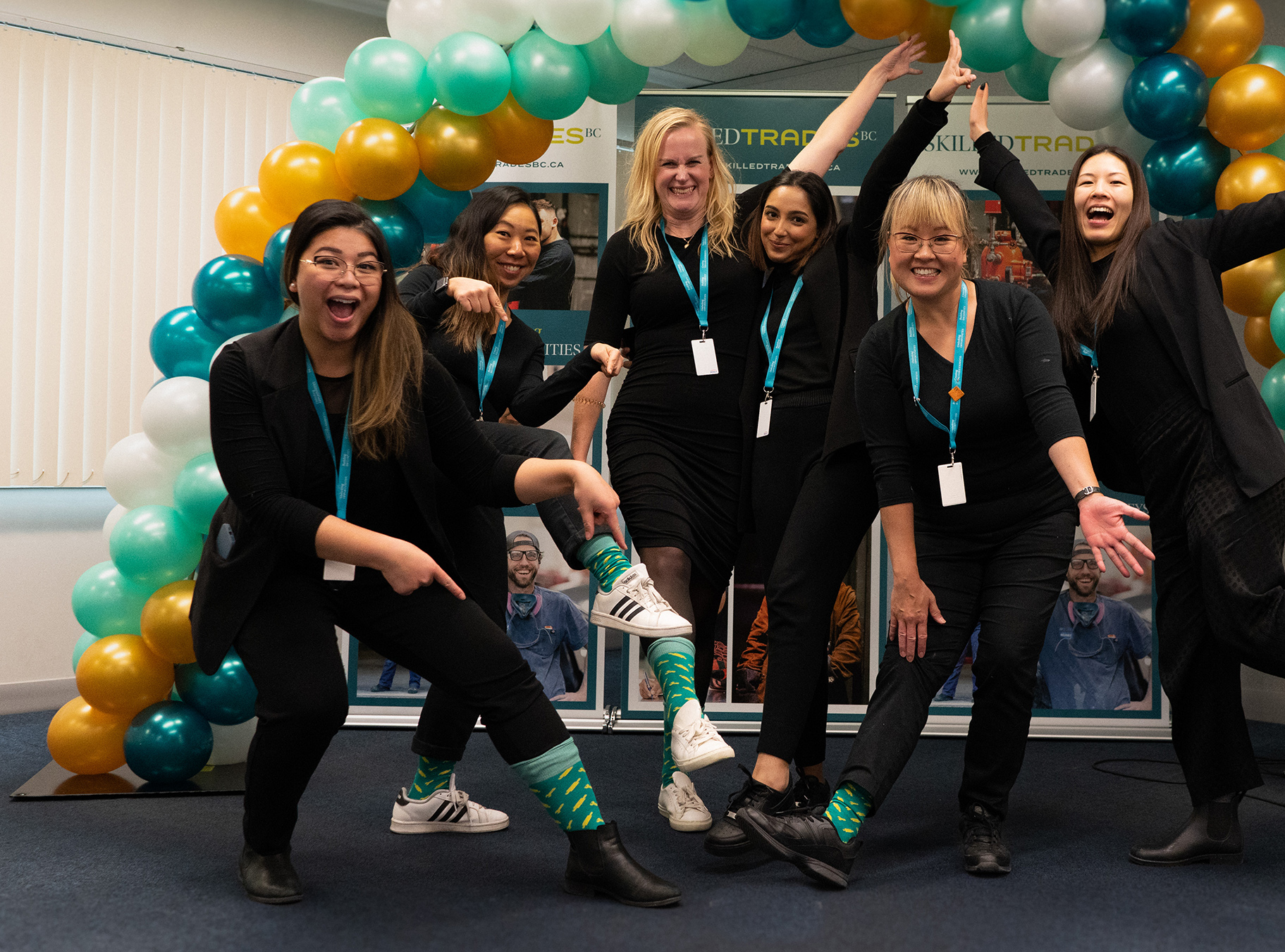 Join our
Team
Do you want to help build the future workforce of B.C.? A career with SkilledTradesBC is an opportunity to make a difference, with a team of passionate and driven individuals in an exciting and rewarding workplace. 
Our team is key to our success, and we are committed to supporting them through professional development, ongoing recognition and constant challenges. Our culture is firmly linked to our values—inclusion, respect, excellence, innovation, and collaboration—which shape the way we work, every day.  
We are committed to diversity and inclusion to ensure that everyone can be their best, authentic self at work. We strive to remove barriers that affect marginalized communities in our recruitment processes, and we encourage all qualified applicants to apply. 
To apply for one of our current positions, please send your cover letter and resume as a single PDF document to humanresources [at] skilledtradesbc.ca.
To create an inclusive, world-class training and apprenticeship system that meets the needs of British Columbia's economy.
Who We Are
A Great Place to Work®  
We have been certified as a Great Place to Work® for 7 years in a row. Our exceptional culture allows us to drive meaningful impact among key partners, employees and communities.  
A Community Leader  
We lead cultural change in the skilled trades, removing barriers that contribute to racialization and marginalization of Indigenous peoples and underrepresented groups. 
A Supportive Team  
We provide employees with professional development and growth opportunities to support career goals.  
A Rewarding Place to Work  
We appreciate the great work and dedication of our employees—our success is their success. Some perks that we offer include a comprehensive benefits package, public service pension plan, lifestyle spending account, a flexible work schedule, staff events, and more.

Inclusion
We value, recognize and support the rights of all individuals to be accepted, feel like they belong and have their differences celebrated. 
Respect
We value relationships that build trust, safety, and wellbeing amongst the communities we serve and our colleagues. We have deep regard for the feelings, wishes, rights and traditions of all people. 
Excellence
We strive for excellence through innovation, teamwork, superior service and continuous improvement to deliver the best experience to our customers, partners and communities.
Innovation
We learn new skills and implement new ideas. We work with partners to advance best practices to lead and grow the skilled trades in B.C.
Collaboration
We are purposeful in actively listening to and working with our partners through open and transparent engagement to achieve our shared goals and vision.
SkilledTradesBC provides a safe environment for employees and recruitment candidates. We currently operate on a hybrid work environment, which encompasses working remotely and in-office. 
Due to the high volume of applications we receive, only short-listed candidates will be contacted. 
We sincerely thank all applicants for their interest in joining SkilledTradesBC.