Recognizing the Apprentices

of Blackline Marine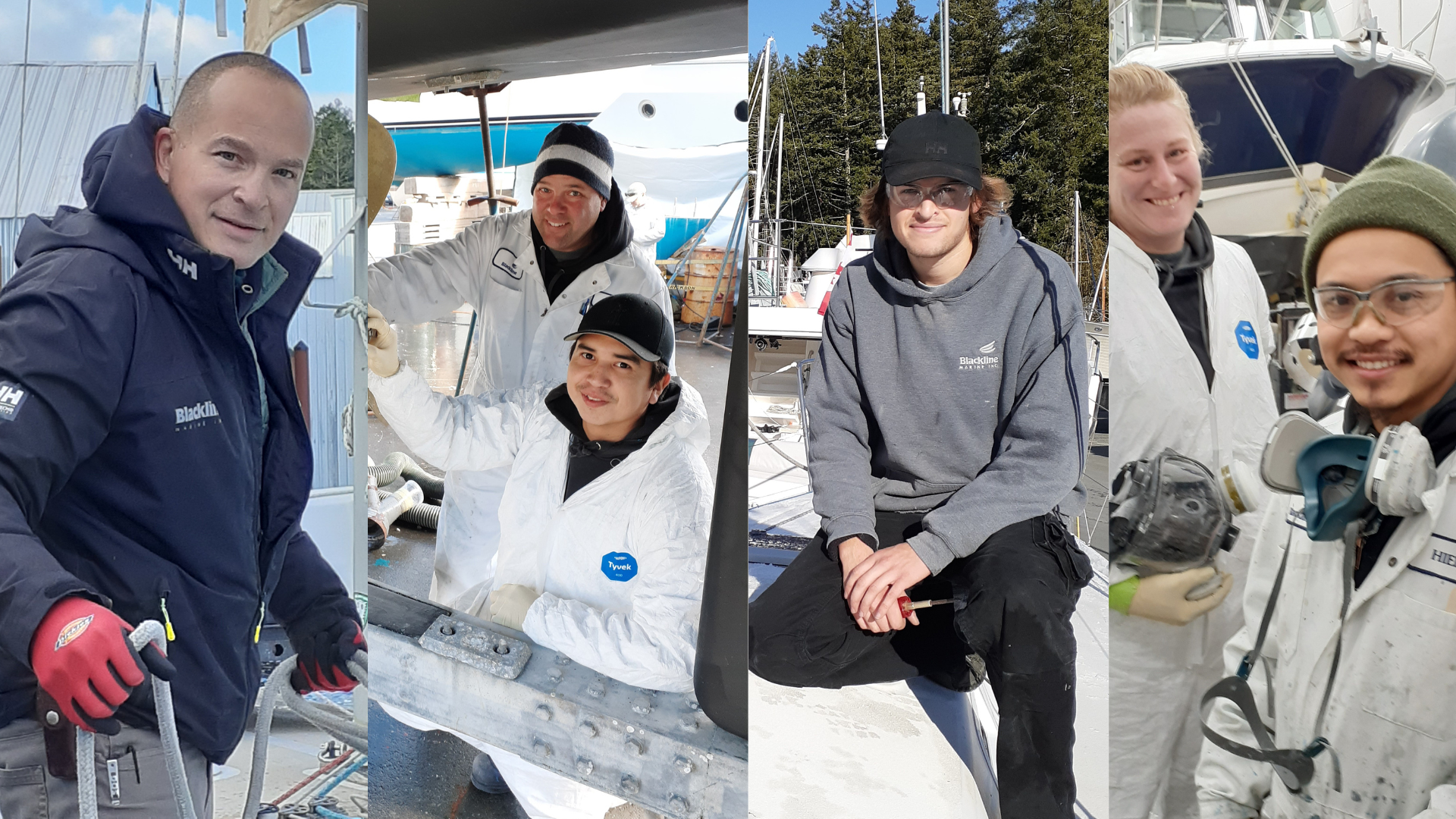 For Apprenticeship Recognition Month, Blackline Marine is recognizing their Marine Service Technician apprentices Christopher, Jeff, Hiep, and Martin!
WHY ARE YOU PROUD OF YOUR APPRENTICES?
Blackline Marine has a long successful history of sponsoring Marine Service Technicians (MST) and this current group has shown themselves to be outstanding in technical competency achievement.
These apprentices come from a diverse range of backgrounds and have made themselves an essential part of our service team of 20 technicians. Blackline services yachts, both sail and power. These are complex in both their structure and on-board systems. Our apprentices need to be problem solvers by nature. The current apprentices have shown a real ability to work to the company (and industry) standard, get the job done in a satisfactory time, are able to handle the variety of circumstances we typically find and do it all safely. They are a credit to the company and Quadrant Marine Institute where they do their course studies.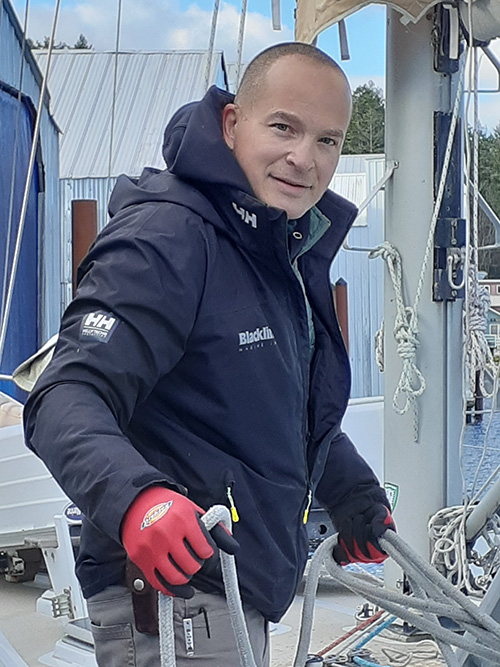 Christopher (Chris) Dudenas has a military background (Reserves and military contract positions) and is an avid sailor. His solid communication skills are a real asset both within the company and when dealing with our clients. He is rapidly expanding his technical knowledge and competency in our division that builds and services sailboat masts and associated rigging. Chris' ability to deal with challenging issues has already proved to be an asset in this complicated and demanding skills area.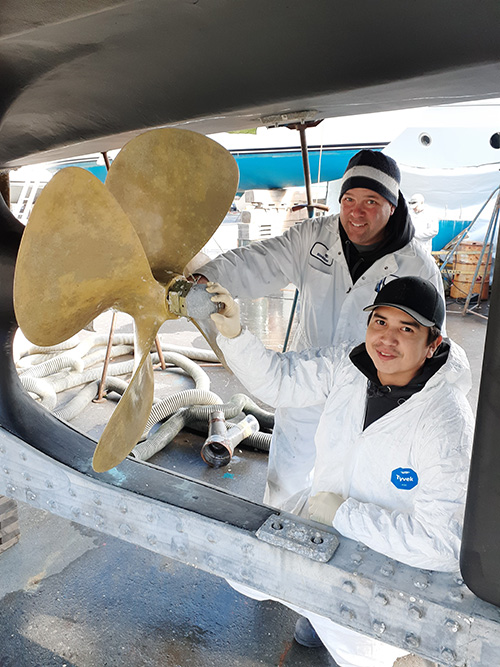 Here, Jeff Henry (foreground with MST supervisor Rob Trelford) is inspecting propeller anodes. Jeff is two years into his apprenticeship and really appreciates the broad scope of the training he receives through Blackline and Quadrant. He has demonstrated a mature and responsible approach to this challenging work. Jeff has really taken charge of his apprenticeship and is always keen to expand his knowledge and skill. He is a real asset for Blackline. Jeff is a proud new dad and we are all happy to see him succeed.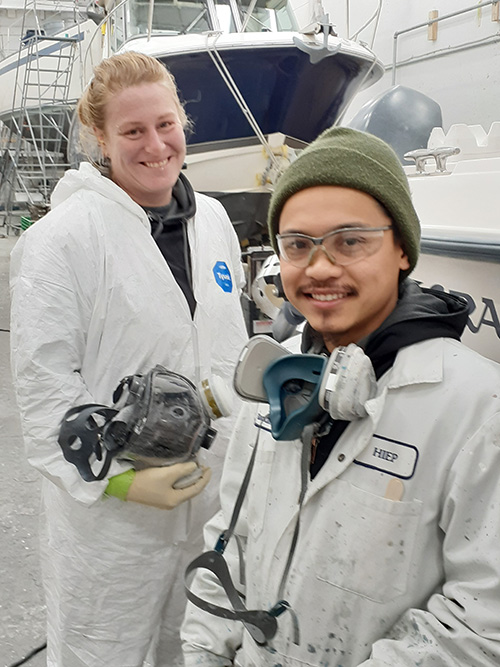 Hiep Nguyen (with MST supervisor Andrea Morrison). Hiep has focussed on structures and finishes in the early part of his apprenticeship. He has demonstrated a quick mind for troubleshooting and an ability to plan and execute tasks quickly. Hiep is a fast learner and shows real potential for growth. He has done a super job to adapt to the marine world and he is a valued employee. Hiep will go far!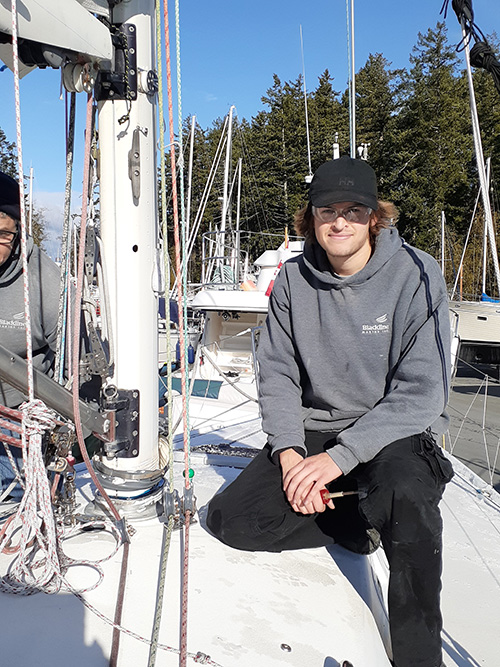 Martin Schmidt has come to Blackline through the Train in Trades Program via Quadrant Marine Institute. Martin was in the Marine trades option at Parkland High School and is now in his final year of apprenticeship focusing on sailboat rigging and sail handling equipment–a rapid and successful start. Martin is very skilled not only in the technical competencies but his excellent communication skills are a real asset when dealing with complex work. We hope Martin is a big part of our future!
HOW DO YOUR APPRENTICES INSPIRE YOU?
Apart from all we have said above, responsibility is at the top of the list. These guys step up and keep the management accurately informed about the progress of their work. They listen well and question supervision when unsure of the task. This 'soft skill' is really valuable for us. If there are any issues with work, they bring it to our attention quickly. This approach means they are constantly improving!
They see themselves as part of a team. That means they recognize the need to support other staff when help is needed. Support works both ways and it has always been our goal to have them freely ask for and give support. They have that figured out already!
HOW HAVE YOU SUPPORTED YOUR APPRENTICES?
We actively take an interest in their work to integrate them into the Blackline team. A feeling of belonging is essential if talent and knowledge is the goal. Having an unsupportive workplace leads to apprentices never reaching their potential. We actively follow a structured path to specific competency achievement. Each apprentice works with a mentor/supervisor to build skill in specific areas and this is measured through an assessment process understood by both parties. Apprentices are offered support if they are challenged by their course of study. We have many journeypersons in our crew and help is always at hand.
WHAT WORDS OF ENCOURAGEMENT DO YOU HAVE FOR BC APPRENTICES?
The support you get from your company is a big factor in your success as an apprentice. Take advantage of the opportunity to learn. Here is what you can do to make that growth happen quickly:
Be motivated – give your best – it will make you feel good about work and it will be recognized by others.

Be responsibile – live by the results of your efforts – if you are responsible you are in control of your career.

Be mature – this means talk about the problems honestly and don't let your ego get in the way. This is hard to do but is a powerful skill.

Developing skill is the easy part so take every opportunity to learn, whether at work or at trade school.
Your education in the trades is your responsibility. If you are an active participant in the training process at work or at trade school you will move ahead quickly. Real skill develops in the workplace, so make sure you get the opportunity to learn!