Celebrating Mother's Day in

'The New Normal'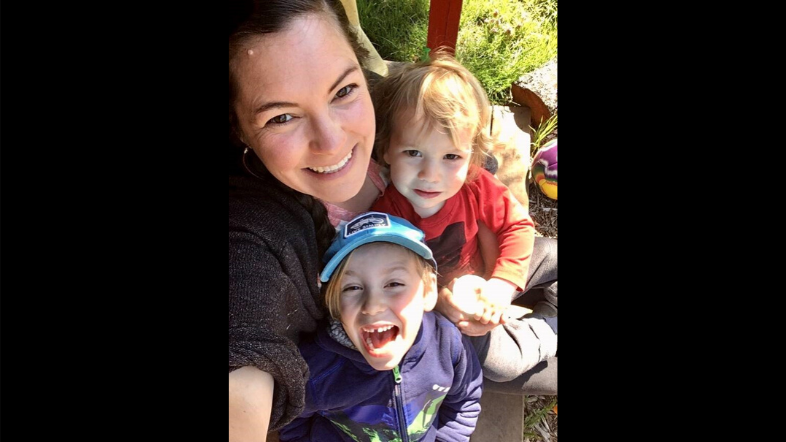 A Red Seal electrician faces the challenge of parenting during a pandemic.
Like many parents, Lindsay Kearns has had her life turned upside down by COVID 19. A Red Seal electrician currently on leave, she now juggles the demands of contract work from home and the full-time care of two young children, aged two and six.
"It isn't easy," says Lindsay from her Victoria home. "I work a lot in the evening when they're in bed, from about 7:30 until late. This week, I'm doing a (virtual) presentation to the Women in Trades at Thompson Rivers University. I'm going to try to do it when my toddler is napping."
She says being a tradeswoman has taught her resilience and that has made her a better parent.
"I've had to develop my skills around communication, conflict resolution and patience, all of which I use daily in parenting my kids."
With a degree in urban geography and Indigenous studies, Lindsay started out on a different career path. Then she took a trades foundations course funded by SkilledTradesBC at Camosun College and discovered how much she loved it.
"It is the best life-changing thing I've ever done for myself. But people were shocked. I don't come from a family that worked in the trades," she says.
As every tradeswoman knows, working in a male dominated industry often comes with hostile reactions and discrimination.
"I am kind of pushy. I'll just tell them its not appropriate to say racist things and sexist jokes," says Lindsay.  
Surprisingly, she says being gay has enhanced conversations with some co-workers.
"I am probably the only openly gay person some of these guys have ever known," she says. "A lot of times guys come to me and tell me what's going on in their lives. Rarely is it that they're gay. It's their kid, or someone who took their own life."
Offering support and guidance to others is a role Lindsay embraces in her work and as a mom. This Mother's Day, she and her spouse and kids will celebrate it at home, safely and most importantly, together.   
Lindsay Kearns is an outreach coordinator at the BC Centre for Women in the Trades while on leave from her electrician job.